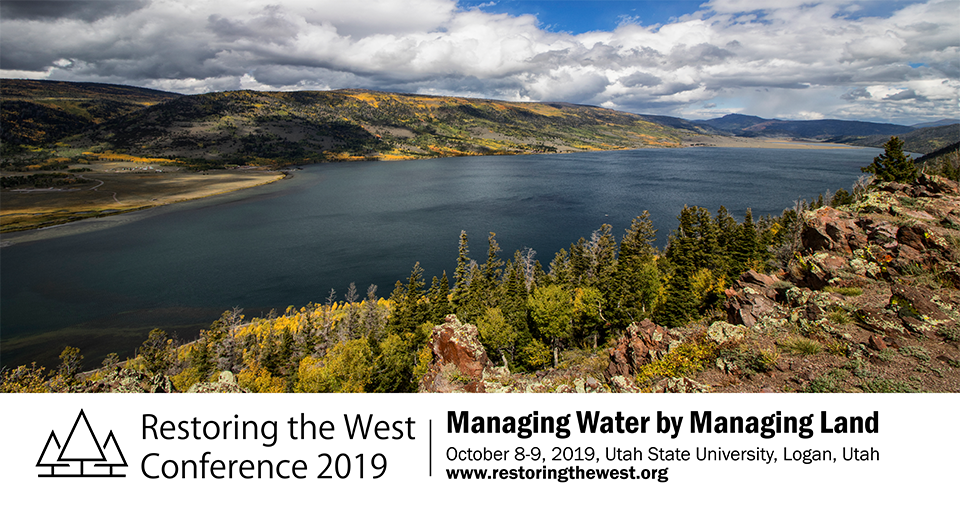 Agenda
Day One: Tuesday, October 17, 2017

7:30 to 9:00 a.m.
Registration Open
8:30 to 8:35 a.m.
Welcome, Chris Luecke, Dean, Quinney College of Natural Resources, Utah State University, Logan, Utah
8:35 to 8:40 a.m.
Conference Overview, Darren McAvoy, Extension Assistant Professor, Utah State University, Logan, Utah
8:40 to 9:20 a.m.
Keynote: Managing for forest resilience under global change: the power of fire refugia.
Crystal Kolden, Associate Professor, Forest Rangeland and Fire Sciences, University of Idaho, Moscow, ID
9:20 to 9:50 a.m.
Embracing Partnership and Realizing the Co-benefits of Collaboration.
Spencer Plumb, National Forest Foundation, Southern Rockies Region, Flagstaff, AZ
9:50 to 10:20 a.m.
Break
10:20 to 11:00 a.m.
Keynote: Forest Restoration at the Landscape Scale across Land Ownerships: How to get there from here?
Susan Charnley, Research Social Scientist, Forest Service, Pacific Northwest Research Station, Portland, OR
11:00 to 11:30 a.m.
Forest Restoration from the District Ranger Chair.
Elizabeth Davy, District Ranger, United States Forest Service, Island Park, ID
11:30 a.m. to 12:00
Restoring Pattern, Structure, and Function in Dry Forests: the ICO Approach
Derek J. Churchill, Forest Ecologist and Silviculturist, School of Environmental and Forest Sciences,
University of Washington, Seattle, WA
12:00 to 1:30 p.m.
Poster Session and Lunch
1:30 to 2:00 p.m.
Accelerating Restoration - The Challenges and Successes of the Nation's Largest Collaborative Restoration Project
Dick Fleishman, Operations Coordinator, Four Forest Restoration Initiative, United States Forest Service, Flagstaff, AZ
2:00 to 2:30 p.m.
Beyond Collaborative Decision-Making: Practices for "Matching" Ecological and Social Systems in Forest Restoration.
Jesse Abrams, Research Associate, Institute for a Sustainable Environment, University of Oregon, Eugene, OR
2:30 to 3:00 p.m.
Forest Structure Outcomes After Mixed-Severity Wildfire: Do They Meet Restoration Goals?
Mike Battaglia, Research Forester, United States Forest Service, Fort Collins, CO
3:00 to 3:30 p.m.
Break
3:30 to 4:00 p.m.
If the trees don't pay for restoration what will?
Diane Vosick, Director of Policy and Partnerships, Ecological Restoration Institute, Northern Arizona University, Flagstaff, AZ.
4:00 to 4:30 p.m.
Handshakes and head fakes: when social dynamics intersect with institutional processes in collaborative, adaptive forest restoration
Tony Cheng, Professor, Department of Forest and Rangeland Stewardship, Colorado State University; Director, Colorado Forest Restoration Institute, Fort Collins, CO
4:30
Adjourn
5:30 to 7:30 p.m.
Reception, Cafe Sabor (600 W Center St Logan, UT 84321).

Day Two: Wednesday, October 18, 2017

8:00 a.m.
Registration Open
8:30 to 8:35 a.m.
Welcome
8:35 to 9:15 a.m.
Keynote: Restoring fire-prone Inland Pacific landscapes: seven core principles
Paul Hessburg, Research Landscape Ecologist, Pacific Northwest Research Station, United States Forest Service, Wenatchee, WA
9:15 to 9:45 a.m.
Restoring the Landscape – San Carlos Apache Reservation
Dee Randall, Forest Manager, San Carlos Apache Tribe, San Carlos Reservation, AZ
9:45 to 10:15 a.m.
Break
10:15 to 10:45 a.m.
Accelerating Forest Restoration in Northern Arizona. Northern Arizona Program Restoration Manager.
Neil Chapman, The Nature Conservancy, Flagstaff, AZ
10:45 to 11:15 a.m.
Integrating science with restoration in Colorado's Front Range Collaborative Forest Landscape Restoration Project (CFLRP): some of our greatest hits
Jenny Briggs, Research Ecologist, Geosciences and Environmental Change Science Center, US Geological Survey, Denver, CO
11:15 to 12:05
1) Does bark beetle disturbance alter forests' protective effects against snow avalanches?
Michaela Teich, Post-doctoral scholar, Wildland Resources

2) Low-severity fire impacts snag dynamics in an old-growth forest: Does tree neighborhood matter?
Kendall Becker, PhD Ecology student, Wildland Resources

3) A seedling-based approach to aspen restoration in the Interior West.
Alex Howe, MS Ecology student, Wildland Resources
12:05 to 1:00 p.m.
Lunch
1:00 to 1:30 p.m.
Perspectives of a Land Manager.
Craig Taggart, Environmental Manager, Tercio & Trinchera Ranches, Fort Garland, CO
1:30 to 2:00 p.m.
Impacts of low-severity fire and fuel treatments on ponderosa pine resistance to mountain pine beetle.
Sharon Hood, Research Ecologist, Rocky Mountain Research Station, United States Forest Service, Missoula, MT
2:00 to 2:30 p.m.
Clearing the way: Revealing and removing hidden barriers to private land forest restoration
Leslie Allison, Executive Director, Western Landowners Alliance, Santa Fe, NM
2:30 to 3:00 p.m.
Break
3:00 to 3:30 p.m.
Increasing the pace and scale of forest restoration and the breadth and depth of forest restoration partnerships in Idaho
John Robison, Lemhi Forest Restoration Group and Idaho Forest Restoration Partnership, Salmon, ID
3:30 to 4:00 p.m.
Application of International Standards for Ecological Restoration to the Western US.
Cara Nelson, Associate Professor of Restoration Ecology, University of Montana, Missoula, MT
4:00 to 4:40 p.m.
Keynote & QCNR Seminar Speaker: The Ongoing Promise & Emerging Perils of Western Forest Restoration in a Global Change World
Craig Allen, Research Ecologist, U.S. Geological Survey, New Mexico Landscapes Field Station, Los Alamos, NM
4:45 p.m.
Adjourn
6:30 to 8:00 p.m.
(time is approximate, may change slightly)
Special presentation:
Paul Hessburg, The Era of Megafires Tour with Q & A from local fire experts and USFS personnel. All are welcome to attend this free, public event.
Location: The Riverwoods Conference Center, 615 Riverwood Pkwy, Logan, UT 84321

How to get my free tickets?

I'm registered for the Restoring the West Conference, do I need to reserve tickets for Paul's talk, at 6:30 PM, too?
Yes, there are a limited number of seats available at the Riverwoods Conference Center, so please reserve your tickets here.